Algebra tips to help you prepare for the ATI TEAS.
You can expect about 2 to 3 scored algebra questions when you take the TEAS, so these tips are a great way to get your ATI TEAS math review off to great start.
Note: Are you taking the TEAS in June 2022 or later? Learn about the new ATI TEAS 7 and if it affects you.
Today, we're going to talk about how to recognize the scored questions, the must-know steps to solve them, and how to prepare for any question type you might see.
ATI TEAS Math Review: Algebra Tip #1
Learn the difference between the likely scored and the likely unscored questions.
Your scored questions will likely have…
✔️ One variable
✔️ An equal sign, not an inequality (like greater than or less than)
✔️ Maybe a fraction, a set of parenthesis, an exponent, or (eek!) a combination of these.
Plus, your scored questions will ask you to do one of three things:
1. Solve the equation, meaning you would need to solve for x.
2. Simplify an expression. This means that you won't actually solve for x.
3. Select the right order of steps in order to solve it… without actually solving it.
Why might a question ask you to simplify or select the steps rather than solving it? Because then you can't plug and chug!
For example, let's say you are taking the TEAS, and you have an equation that looks like this…
13 + 4x – 2x +10 = 56
Since you are given 4 possible options for x in your A, B, C, and D answer options, well, you can just pop out your calculator and try each option until you find the right answer.
By requiring you to simplify the expression or select the order, the TEAS math section can better assess your algebra problem-solving skills. (Rather than, you know, your calculator skills.)
We'll talk more about these scored concepts in just a second, but I want to add one more point for this section of your ATI TEAS math review. You will want to recognize some questions that are likely not scored. Recognizing these questions can help you save time and keep calm on test day.
Questions that you might see, but that probably are

NOT

scored include…
✖️One-variable equations with an inequality (less than, greater than, etc.)
✖️One-variable equations with absolute values
✖️ Two-variable equations, like an equation with an x and a y
If these questions aren't scored, then why are in the math section? Great question!
An older version of the TEAS had scored questions on these concepts.  The test makers removed these concepts from the official study manual for the current version of the test, but the test makers still have them sitting around… waiting to make your palms sweaty and your head spin.
By the way, the math section has 4 unscored questions. The unscored questions are folded into all the questions—you can't be 100 percent sure what is scored or not.
But! Most of my TEAS Prep Program student love learning what is likely not a scored question. This helps you stay calm when you see some random hard math question…especially if you are feeling time pressure and starting to stress.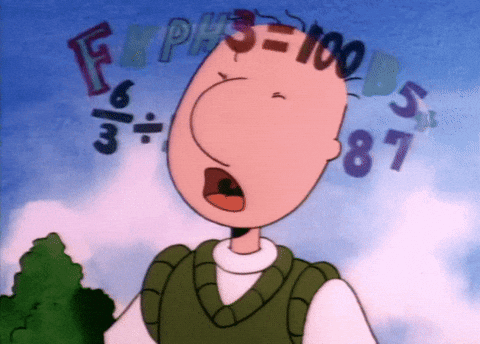 So how do you solve these types of questions on the TEAS? Let's talk about that next!
ATI TEAS Math Review: Algebra Tip #2
Learn the 3 main tools you'll need to use to answer these questions quickly and easily.
Typically, you can use three different tools:
🔨TEAS Tool #1: Combining like terms
🔨 TEAS Tool #2: Inverse operations
🔨 TEAS Tool #3: Using reciprocals
Let's define and describe these tools one at a time so that you can better prepare for your ATI TEAS math review.
🔨 Combining like terms
Combining like terms means that all the variables end up on one side of an equation, and all the numbers end up on the other. 
For example, if you have equation like this…
2x + 6 = 3x
You want to combine like terms by moving the numbers with x  on the same side of the equation.
In order to do this, you'll need your second tool in your TEAS toolbox.
🔨 Inverse operations
Inverse operations allow you to move numbers and variables from one side of the equal sign to the other. 
Inverse means you do the opposite operation to "undo" the equation.
✔️ If you want to undo addition, subtract.
✔️ If you want to undo subtraction, add.
✔️ If you want to undo multiplication, divide.
✔️ If you want to undo division, multiply.
In our sample equation, you can use inverse operations to combine like terms. For example, you have a positive 2x on the left side of the equation. You want it to be on the right side of the equation (with the 3x). In order to move it to the other side of the equal sign with the 3x, you can subtract 2x from both sides.
Now, you have 6 = 1x.
🔨 Using reciprocals
Reciprocals are all about fractions. Reciprocals are flip-flopped fractions.
The reciprocal of 3/4 is 4/3.
The reciprocal of 6/7 is 7/6.
The reciprocal of ¼ is 4/1, or 4.
You might need to use reciprocals on the TEAS. For example, you might be working through an equation and end up with ¾x. Or, you might have a fraction that looks like x/5. In order to get 1x, you'll need to multiply by their reciprocals.
On the actual TEAS, you're likely to see some questions that are a bit more complicated than the example above.
How do you solve the more complicated questions? You will still need these three tools, but now you might need to apply them with other math concepts. This brings us to the third tip.
ATI TEAS Math Review: Algebra Tip #3
Be prepared for curve balls with PEMDAS, negative numbers, or exponents.
It's very likely that you'll see algebra questions that require you to apply the order of operations (PEMDAS), work with negative numbers, or show off your exponent skills.
The best way to prep for this is, well, practice drills. You'll first need to understand the rules, and then you'll need to get comfortable applying them.
In my online TEAS prep course, I expand the math prep section on this topic. Yay! A favorite feature of this updated lesson is a quiz that walks you through each question type that you might see on the exam. It's a great way to help you get your ATI TEAS math review on the right track.
In the quiz, you'll get a chance to answer each question, and you'll get instant feedback on if you are right. In the answer explanation, you can watch a video where I solve it along with you, showing you the exact steps and rationales that you can use to solve it.
You will learn how to solve algebra questions that involve equations with…
✔️ Negative numbers
✔️ An application of the order of operations
✔️ Squared variables
✔️ A set of parenthesis squared
✔️ Fractions
✔️ A application of taking the square root
✔️ Combos of these!!
If you are super cool with each of these equation types, awesome! If any of them having you scratching your head, check out my online TEAS Prep Program. I'll walk you through all of them, and you'll have an opportunity to have your unique questions answered along the way, too.
Also, my online ATI TEAS prep program contains practice with ordering steps. This is another important concept for you ATI TEAS math review. In the course, you have an interactive lesson where you can answer fill-in-the-blanks questions so that you can order the steps to solve.
Here are two practice TEAS math problems so that you can apply your ordering skills:
Check your work by clicking the blue button!
Keep Reading: Math Flashcards and Test Prep Tips
Related: More about the online TEAS prep program
Remember, you'll see about 2 to 3 questions covering these topics on the TEAS math section.
Though it might seem a bit overwhelming at first, you can do it! Focusing on practice, learning the steps, and getting comfortable can set you up for some quick wins on the TEAS.
Wouldn't feel awesome if you knew exactly how to solve anything that might come your way? You can get there! Happy studying!
Kate is a CRLA certified tutor and test prep expert. She founded Prenursing Smarter in 2017. Kate lives in sunny Southern California and is an enrolled member of the Cheyenne River Sioux Tribe (Mnikȟówožu Lakȟóta). Prenursing Smarter is an inclusive business and actively seeks opportunities to collaborate with and support diverse voices.