This is going to be a meaty post, so grab a drink and get comfy. You will get an outline of some major study points for your ATI TEAS Anatomy and Physiology question prep.
Guide for TEAS Anatomy and Physiology Prep

Here's what we'll cover in this TEAS prep guide:
✔️ Three big tips to get your Anatomy and Physiology studying on track
✔️ Suggestions for your flashcards
✔️ Links to other great posts that can help you prep for ATI TEAS Anatomy and Physiology questions
Anatomy and Physiology is huge for the TEAS. The majority of  your scored questions will focus on the human body and its organ systems. In fact, you'll see 32 scored Anatomy and Physiology questions on the TEAS.
Note: Are you taking the TEAS in June 2022 or later? Learn about the new ATI TEAS 7 and if it affects you.
Now, as you've probably noticed, this is a ton of information. It's very easy to get overwhelmed—or to miss an important study point.
When I work with busy students, I try to help them identify the process and systems to know inside and out, the random facts to cram in your brain, and the complicated stuff you can skip.
Difference between learning and memorizing for the TEAS.
When you learn something, you understand processes, see how the pieces fit together, and can make inferences and deductions.
If you've successfully learned something, you can teach it to a friend and answer their questions. You are that comfortable with the topic.
When you memorize, you cram facts into your head and hope they stick. This is all about fast recall, and it works great for definitions, lists, and matching.
Your TEAS studying needs to combine both learning and memorizing in order to manage your time and increase your score.
For example, hard and confusing science questions (that seem to come out of nowhere!) will test your ability to apply body processes and systems. They might even require you to combine knowledge with multiple body systems.
And while you can't predict the exact TEAS test questions you'll see,  you can prepare for the right topics at the right level of complexity.
Learning and Memorizing in Action: Blood Flow through the Heart
One body system process you'll need to know inside and out is the flow of blood through the heart. On the TEAS, you probably won't have questions that ask you to directly state how blood flows. Instead, you'll need to apply this process.
For example, what would happen in the body if the mitral valve of the heart stopped working properly? In order to answer this question, you'd need to know where the mitral valve is in the heart, its function, and then you'd infer what would happen if it didn't work.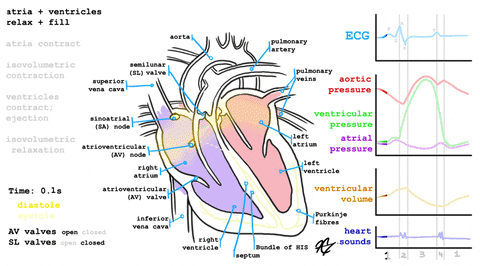 Here's a great cardiovascular system mnemonic for you:
Try = Tricuspid Valve
Pulling = Pulmonary Valve
My = Mitral Valve
Aorta = Aortic Valve 🙂
This memory device suggests that the mitral valve is on the left side of the heart because blood has returned from the lungs (via the pulmonary valve). The mitral valve is between the left atrium and left ventricle.
So, if the mitral valve stopped working, blood might back up into the left atrium and then the lungs. Blood flow to the left ventricle would be reduced, which means that perfusion to the body would reduce. All of these are potential outcomes for if the mitral valve stopped functioning.
By knowing what to understand and what to memorize, you are ready for any type of TEAS question. This type of studying takes time and dedication.
You probably spent at least one semester learning anatomy and physiology in college, so give yourself time to review for the TEAS.
Let's now talk about some study tips for ATI TEAS Anatomy and Physiology questions.
ATI TEAS Anatomy and Physiology Study Tip #1: Get familiar with specific body processes

The TEAS is very likely to ask you about some specific body processes. I call these High-Value Concepts because you will likely see questions about them on your exam. To help you get started, let's look at some of the processes and systems that the TEAS emphasizes. When you study for the these, you want to know their details inside and out before you test.
In order to succeed on the TEAS test, you'll need to be familiar with specific body processes that will require you to rely on both your comprehensive learning of a topic and memorizing.
For ATI TEAS Anatomy and Physiology questions, you can ask yourself 3 basic questions to structure your studying:
Question #1: What are the steps in this body process?
Question #2: What does the body do when it is healthy?
Question #3: What can go wrong—and does the TEAS emphasize a specific pathology for this body process?
We already applied these three questions in our blood flow through the heart example. You probably would love to know some more examples, so let's talk about that now!
Another Important TEAS Body Process:
Breathing → Lung anatomy and how it relates to surface area.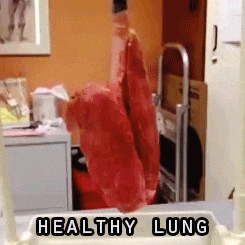 Useful study points include lung anatomy and physiology, including the alveoli, capillaries, and surfactant.
You'll want to describe how gasses are exchanged in the lungs and what the process looks in a healthy body. You'll also want to know what can go wrong. This includes pathology like…
✔️ Emphysema (physical damage to the alveoli)
✔️ Surfactant insufficiency (genetic condition that lowers efficiency of diffusion)
Want more help with the respiratory system?
Keep Reading: How to Study the Respiratory System for ATI TEAS Anatomy and Physiology Questions
Let's summarize some body processes you might see as ATI TEAS Anatomy and Physiology questions –plus give you some study points to help you get started.
Respiratory System Study Topic: Breathing → Surface area and diffusion
Structures involved
What increases diffusion
What decreases diffusion
Identify different diseases that can affect gas exchange
Reproductive System Study Topic: Compare and contrast the male and female reproductive systems
Identify which glands release which hormones
Compare and contrast female and male hormones
Compare and contrast the female and male systems and structures
Describe female and male secondary sexual characteristics
Genitourinary System Study Topic: How the kidneys work

The order of filtering steps in the kidneys
How the kidneys interact with integumentary system
How the kidneys interact with cardiovascular system
Neuromuscular System System: Nervous system organization
The subdivisions of the nervous systems
How reflexes work
How the nervous system communicates with the endocrine system
Let's summarize what we've covered so far!
Certain body processes are extra important for the TEAS, meaning you are likely to be asked about them.
These body processes include…
✔️ How blood flows through the heart (cardiovascular system)
✔️ How gas exchange works in the body (respiratory system)
✔️ How both male and female hormones work in the body (reproductive system)
✔️ How the kidneys filter blood (genitourinary system)
✔️ How the body communicates via electronic signals (neuromuscular system)
For these concepts, you'll likely need to dive deep into studying and TEAS prep. The TEAS could ask you a variety of questions that test your understanding of these topics.
You'll need to memorize steps, but you'll also need to be troubleshoot…
What happens in the body when things go right (healthy)
What could wrong in the body with this process (pathology)
How to study these concepts? Great question! Let's talk about that now.
ATI TEAS Anatomy and Physiology Study Tip #2: Get clear on the right level of complexity

The TEAS is officially matched to concepts covered in grades 7 through 12…. but it totally seems more difficult than that!
The TEAS test is extra tough because of how it is designed. Because it mixes questions in random order, you'll need to be comfortable switching from topic to topic quickly and confidently.
It's like taking your biology, chemistry, and human anatomy and physiology finals all at once. Yikes!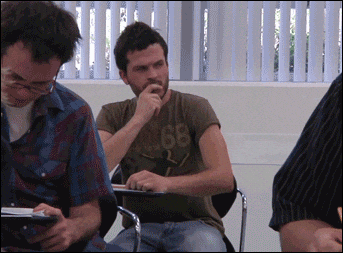 To study for the TEAS test effectively, you'll want to dial in on the right level of complexity for each question type. You aren't trying to get a PhD, but you don't to miss any details either!
Let's talk about some ways you can get clear on question complexity.
Use TEAS study manuals as an outline.
TEAS study manuals are great and useful for many students. In some cases, however, they are better used as an outline–rather than a textbook. This is especially true for the ATI TEAS Anatomy and Physiology questions. Most study guides give you about a page or two for each body system. They are a great resource, but, many times, they can only outline everything you need to know.
In my premium TEAS prep online program, we dive deep into each body system. We cover way more than a page or two for each body system. This way, you are actually learning the material. Plus, I provide you with tips and tricks for both learning and memorizing.
Study manuals are great for pointing you in the right direction. But if a concept is tough for you, a manual might not be enough.
You can use your notes from your college classes.
You can grab a TEAS study manual, write down the main topics, and pop on over to your notes for more details. Your college classes might go beyond what you'll need to know for ATI TEAS Anatomy and Physiology questions, however.
If the details go beyond the scope of the TEAS, you'll end up over studying. Your notes can, however, be a great resource for detailed reference, especially when it comes to a few key areas:
✔️ Terms and definitions
✔️ Outlines of body pathways
✔️ Illustrations and graphs you've drawn
Your notes are great for when you need extra explanation on a topic. But what about when you need to cram lots o' facts in your noggin? Let's talk about that now!
ATI TEAS Anatomy and Physiology Study Tip #3: Know what to straight up memorize
Now, on the TEAS, there are also topics that you might see that you just can straight up memorize. It's not really about deeply understanding a process. It's about matching terms, following steps, and maximizing your test-taking speed.
For example, you can memorize food's journey through the body. Food starts in the mouth and ends at the anus.
What happens in between?
Where are different macromolecules digested?
Where are different macromolecules absorbed?
Keep Reading: Learn about macromolecules on the TEAS
Index cards are a great way to study the body processes of the gastrointestinal system.
On one side, you can write the location in the body (mouth, stomach, duodenum, etc.). On the other side, you can put what is digested or absorbed at that location and any important hormones or enzymes associated with that location.
Then, you can them a shuffle and quiz yourself.
✔️ Can you put them in order?
✔️ If all the locations are visible, can you list what is on the back?
✔️ Can you put the system in place by only looking at the back of the card—what's digested/absorbed and the hormones involved?
This is a great study activity to do for about 15 minutes at a time. Once you have your index cards set up, you can focus on short bursts of memorization.
Memorization is an important TEAS study tool.

Importantly, memorization is awesome if you are feeling too tired to learn (hey, it happens). Memorization is a powerful TEAS study tool when you start memorizing well before your test date and when you do it for short chunks of time.
Focus on memorizing when you have 10- to 15-minute moments of free time: maybe while you are parked in your car, on the bus or train, or while waiting in line. The trick is to memorize in those short study sessions, not to try to deeply understand.
We talked about how you can use memorization to help you prep for ATI TEAS Anatomy and Physiology questions about the gastrointestinal system. Let's talk about about another body system that works great for memorization: the immune system.
Use memorization to help you study the immune system.
First of all, the immune system is complicated. Like, really complicated. This system can be quite overwhelming for a lot of students, so I will stress that it's 100% OK if you don't fully know all the ins and outs.
It's totally OK if you start with matching terms and definitions. This is where memorization can make studying for the TEAS easier.
You can start by defining and listing examples for…
Physical barriers in the immune system (like skin)
Chemical barriers in the immune system (like tears)
Specific cells in the immune system (like B-Cells)
These are great for flashcards. You might also want to jot down this fact: Vaccines are a type of active, artificial immunity. → Hint, hint.

You can continue setting up your memorization flashcards for a few other body systems you might see as ATI TEAS Anatomy and Physiology questions. Here are some ideas to get you started…
Use memorization to help you study the skeletal system.
The bones of the axial skeleton
The bones of the appendicular skeleton
The characteristics of 4 bone types: flat, square, long, and irregular
Use memorization to help you match tissues and organelles to their functions
Epithelial tissue and Connective tissue, etc.
Organelle type and function: mitochondria, Golgi apparatus, endoplasmic reticulum, etc.
We cover all these topics in detail in my online TEAS prep program. For now, you now have a handle on some body processes that you need to know inside and out. Plus, you have terms to set you up for flashcard success. But most importantly, remember that…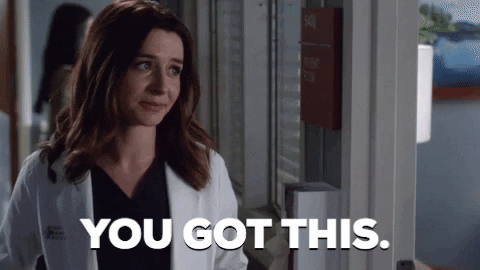 P.S. Want EVEN MORE info about the TEAS?!
Check out my full TEAS prep program. We cover TONS of TEAS anatomy and physiology topics and help students increase their assessment scores.
Here's what a past student had to say:
"I took my TEAS exam yesterday and I received a 92%. I honestly couldn't have done it without your program so I just wanted to say thank you from the bottom of my heart.
Your Prenursing Smarter program is absolutely amazing and tremendously helpful. While taking the exam, I kept hearing your voice in my head about the strategies to take and how to tackle each section. My goal was to score 90 and above and I am so happy to have reached it."
Enroll in the TEAS prep program today!
Kate is a CRLA certified tutor and test prep expert. She founded Prenursing Smarter in 2017. Kate lives in sunny Southern California and is an enrolled member of the Cheyenne River Sioux Tribe (Mnikȟówožu Lakȟóta). Prenursing Smarter is an inclusive business and actively seeks opportunities to collaborate with and support diverse voices.